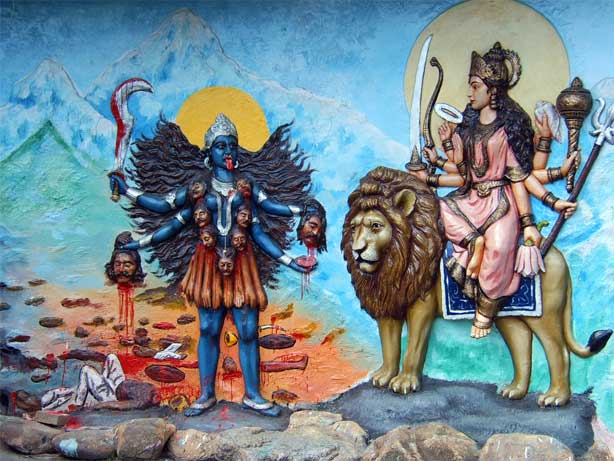 Chamunda Devi
Another ancient shrine en route to Dharmshala was the famous Shakti Peeth of Chamunda Devi. Chamunda is the fearful form of Durga and the idol is said to be so powerful that no one can gaze at it with the naked eye. Hence it is always covered with a red cloth. Shiva is also said to be present here in his form as Mahakala or the Lord of Death. Lord Shiva is said to have enshrined Parvati at this place in her fearful form after he killed the demon Jalandara and hence this site is also known as Rudra Chamunda. In ancient times, animal and perhaps human sacrifices used to be offered at this spot.

The temple is supposed to be about 700 years old and has a big complex attached to it with a tank which is known as the Ban Ganga. Many people take a dip in the holy waters of this lake. There is also a cave at the back with a Shiva lingam.



Chamunda Devi
The legend of how the goddess got this particular name is given in the Devi Mahatmya. The goddess Parvati had taken on the form of Ambika in order to help the gods to defeat the terrible demons known as Shumbha and Nishumbha. Once when she was sitting on a mountain peak, these two demons who had heard of her beauty sent their minions known as Chanda and Munda to go and solicit her hand in marriage. She sweetly refused the offer and told them to tell their masters that she had taken a vow that she would marry only the one who could defeat her in battle. Shumba and Nishumbha sent their armies to defeat her but they were in turn defeated. During the battle Chanda and Munda were causing havoc to Ambika's armies so she frowned and out of her frown came the wrathful form of Kaali. She told her to go and kill the two demons. Kaali did as ordered and returned carrying the heads of the two demons – Chanda and Munda. Ambika laughingly told her that from that day onwards she would be known as Chamunda (Chanda and Munda).
As we entered the huge portals of the temple I felt very strong vibrations. We went and sat in front of the goddess for some time. Unfortunately we could not stay long since we still had a long way to go to our destination. It was indeed Her grace that we had been allowed at least this much of time with Her since this temple had not been included in our original itinerary. As we were traveling along the road to Dharmshala, we had been powerfully led to this place by the signpost showing the way to Chamunda Devi.
Shades of night were falling as eventually we made our way to Dharmshala. It is perched high on the slopes of the Himalayas against the backdrop of the Dhauladhar mountains. It is divided into two distinct sections – upper and lower with a difference of almost thousand meters in height. The upper section is known as Macleod Ganj and was originally reserved for the British as a refuge from the blistering heat of a Delhi summer. Now it is almost totally occupied by the Tibetans who had been displaced from their country and had to flee to India. The Indian government gave this to them and many of them have settled here and live a happy and peaceful life. It is also the place where the Dalai Lama resides.
Macleod Ganj is surrounded by dense pine trees and deodar forests. In the distance there is a magnificent view of the Himalayan snow peaks. Altogether nature has lavished her bounties of beauty on this town in which the Dalai Lama lives.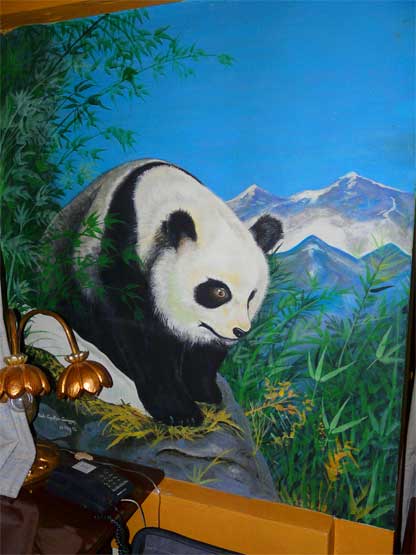 Chonor House
We had been booked into an exclusive Tibetan type guest house called Chonor House which apparently was built and run by the Dalai Lama's brother. We reached there after a long and weary search but once we got there we felt it was worth the effort. Each room was furnished according to a typical Tibetan theme either of flowers, birds or animals. I had a charming room with birds adjoined by a balcony which overlooked the Dalai Lama's palace from which I could hear the far off booming of gongs. Arvind and Chela had the animal room and were surrounded by leopards and tigers that hopefully did not growl and keep them awake.
PadmaSambhava Rimpoche
Next morning we set out for the palace of the Dalai Lama. There were two main rooms which were open to the public and we sat and meditated for a while there. The second room had the electrifying statue of the Rimpoche whose eyes as usual penetrated into me even though I sat with closed eyes. There was another room filled with ghee lamps which emitted the sweet smell of burning ghee.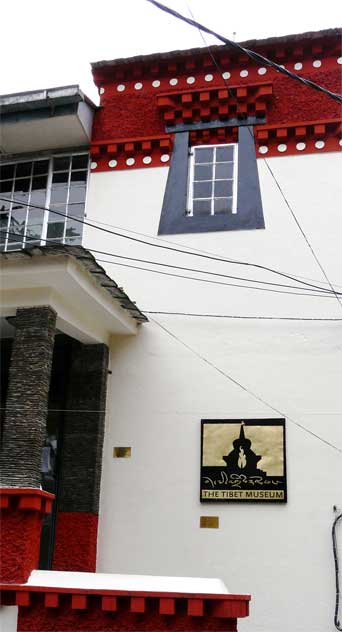 The whole complex was huge and Chela and I went to the Tibet Museum in which was depicted the long trek of those Tibetans including the Dalai Lama who had been forced to flee from their homeland, leaving behind everything they held dear. The photographs gave poignant details of their hard trek over the harsh terrain of the high passes of the Himalayas into India which had given them a sanctuary at this very place. The brutalities committed by the Chinese as they forced the Tibetans to flee in order to keep the shreds of their ancient way of life, was actually very reminiscent of the horrors of the holocaust which I had seen in the museum in Israel. It seemed incredible to me that in this age people could commit such crimes against their fellow men. Genocide is not a happy word. The Tibetans had a culture which was as fragile and delicate as a spider's web. "Far from the madding crowd their sober wishes had never learnt to stray." And now they had been forced into the spotlight of another culture which though prepared to give shelter and all help, yet to them was alien, unexposed as they had been to the external world. The previous Dalai Lama had prophesied that the present one would be the last of their creed. We stumbled out of the museum, our eyes blinded by tears, helpless to do anything for these lost people.




Outside many young men were lying on the ground, on a fast since the little boy who had been chosen by the Dalai Lama to be his successor had been forcibly taken away from his parents and teachers and incarcerated in a room in which he was being indoctrinated with Chinese propaganda instead of Tibetan scriptures! The world was well aware of what was going on since on that day Tibetans all over the world were undertaking a fast and begging the United States to step in and save the little boy. But so far no one seemed to be doing anything to save him and soon it would be too late.

Next we went to the market. Here of course we were really happy to see that the second generation of Tibetans led happy, healthy and quite affluent lives. They had little curio shops and restaurants and way-side stalls which did very good business since a stroll through this market place was a must for all those who came to Dharmshala. In fact you could almost believe that you were in some town in Tibet except that probably the Tibetan towns were not as prosperous looking. We found a purely Tibetan vegetarian restaurant run by monks which gave excellent food. Since vegetarian food is a rarity in Tibetan restaurants we were very happy to have found this one.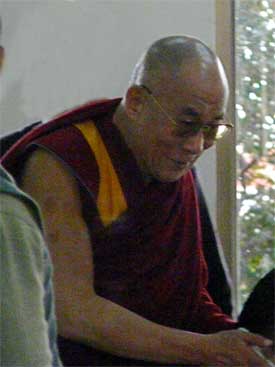 Dalai Lama Kullu Airport


We were all sad that the Dalai Lama was not in residence. He had gone to Bangalore and was trying to get people to help him to rescue the little boy. Even if he had been there apparently we would have to undergo a three day examination before we would be allowed to see him. Next day as we were returning from the palace I suddenly spied a small golden salamander basking in the sun on a niche in the rock wall. It is considered very lucky to see a golden salamander so I called my friends to observe him. I shall narrate how lucky he was going to prove for my friends. Next day I left for Rishikesh by car and Arvind and Chela went to the small airport at Kullu to catch the flight to Delhi. As they went in they noticed that the place had been cordoned off since the Dalai Lama had just landed. As he came out, Chela in all innocence cut through the barrier and ran and fell at his feet. He looked at her with his compassionate gaze and blessed her. You can imagine what a blessing this was to her and how this particular incident was the crowning point of their Himachal yatra.
My road on the other hand took me to the famous temple of Jwalamukhi which I had visited many years ago. It is fifty-six km. from Dharmshala. Jwalamukhi is one of the Shakti peethas and this is the place where Sati's mouth fell (refer to the article on Sati for this story.) Thus she is known as the goddess of the flaming mouth since fire comes out of it. One of the ancient kings of Kangra, who was a great devotee of Durga, had a dream in which the goddess appeared to him and gave him directions to find this spot. He found the place and constructed a temple there. However the present temple was completed only in the 19th century by Maharaja Ranjit Singh and his son Kharak Singh who also gave gold and silver to construct the dome and door. This temple was built on a very simple wooden platform and the architecture is said to be Indo-Sikh. The dome and spire were plated with gold given by the king and the main door was made of silver. The huge bronze bell in front of the temple was presented by the King of Nepal.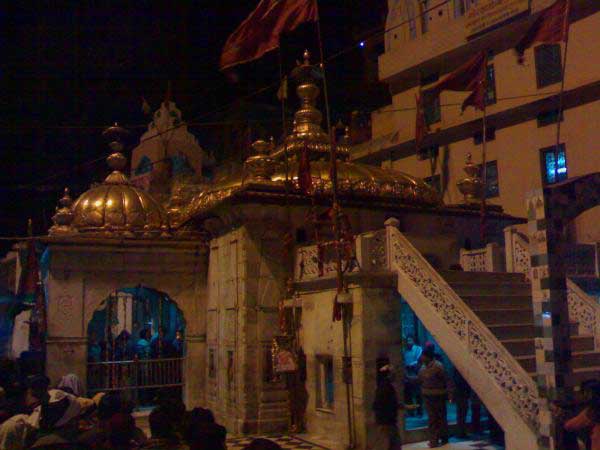 Jwalamukhi Temple


Hearing about the miraculous powers of this place, the great Moghul Emperor, Akbar came to see it for himself and tried his best to put out the flames but was totally unsuccessful in his attempt. He became very contrite and later came with a gold umbrella for the goddess but strangely enough, the gold changed into some unknown metal and it was taken as a sign that the goddess did not accept his offering.
The actual spot where the flames appear is no more than a small circle of about three feet in circumference. A short flight of steps leads to the grotto in which you see two small pools of crystal clear water, fed by natural springs. Three orange jets of flame flare steadily from the sides of the pool, just a few inches above the surface of the water which looks as if it is bubbling. However if you put your hands into it, it is refreshingly cool. The temple has no idol since the goddess manifests herself in her nine forms as nine eternal flames. These are Mahakaali, Annapurna, Chandi, Hinglai, Vindhya Vasini, Mahalakshmi, Saraswati, Ambika and Anjini Devi. The offerings to the goddess are made into this pit in which the flames are perpetually burning. The temple is guarded by the fierce looking followers of the great Tantric, Goraknath, who had many miraculous powers. Sometimes the priest throws some water into the pit and immediately a huge flame comes out which invariably makes the devotees gasp. To date no one has been able to unravel the mystery behind these flames which might be due to a natural jet of combustible gas. Indians are famous for their ability to see God in anything especially in that which is strange and miraculous and thus to this day we see the power of the goddess manifesting itself through these incredible flames. Many tantrics and seekers have been drawn to this place through the ages and many are said to have attained siddhis or supernormal powers by the grace of the goddess as did the great sage, Goraknath.


This was the last of our temples and I returned late at night to Rishikesh to the sanctuary of the Vanamali Ashram, saturated with the miracles of our Holy Land of Bharat.