Menhendipur
Balaji Hanuman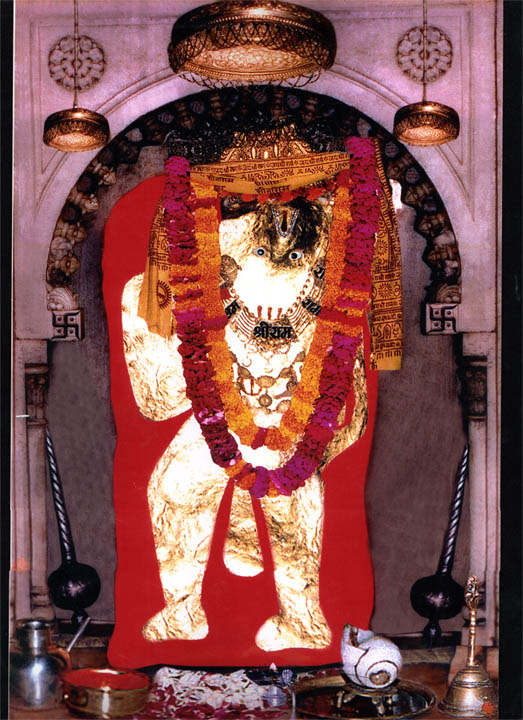 Balaji Hanuman of Menhendipur


I had wanted to go to Mehendipur to see Balaji ever since I wrote about him in the Vanamali book on Hanuman. How I got the information is anybody's guess but it's a fact that every time I start writing about any deity, the information I need comes to me in a mysterious fashion. It is said that whenever you want to go to a temple, the deity' s wish to see you should match your own, only then will the visit come to pass. So this November when my sister came for a visit we decided that this was the best time to go to see him and obviously he also agreed since my sister is a great Hanuman bhakta.
We took a car from Delhi all the way to Mehendipur and reached about 1 pm and went straight to the temple. We had been given a special police escort which enabled the car to go right up to the temple which was a boon to my sister who is not able to walk much. The entrance did not look anything like a mandir and we were escorted by the side gate into the temple where we could gaze as long as we liked from the side. The figure is cut out of the rock and had a strange look on his face. In fact this was one of the weirdest Hanuman temples I had ever been to. The whole place vibrated with some power which I could not quite place. In front of the deity were placed all types of food like laddus and types of fruits and sweets which were liked by Hanuman. After praying we came to the main entrance and found it was quite empty so we went once more by the actual entrance and I was intrigued to see quite a few girls sitting on the side who appeared to be in some sort of trance. Sometimes one of them would roll their head around and emit some cry like a soul in agony. It was only later that I was able to understand the reason for all this. As usual I offered a garland to Balaji since my main offering to any deity was a garland or "vanamala" since that was my Vanamali's favorite offering and to me all gods whatever their shape or form was only another form of my beloved Vanamali.
We went out of the side gate and were ushered to another underground sanctum in which was the second special deity of that place. He was Lord Bairava which is a fierce form of Shiva. Of course like all Shiva's figures, this was only a big black stone and one had to stand to a side and bend down to have a glimpse of the deity.
Sri Pretaraj
King of Ghosts

From there we were taken up the stairs to the third deity of this amazing temple and he is Pretaraj or the king of ghosts. He is also known as Yamaraj or the king of death. There is an eternal fire burning in front of him being fed by the priests. There was a big hall adjacent to this in which were seated many people of both sexes who all appeared to be either intoxicated or possessed of some spirit for they were swaying from side to side with disheveled hair and groaning now and again. It was almost 2 pm by then and the man who was escorting us told us to wait a few more minutes and we could watch the show! Apparently from 2 to 4 pm all these poor people who were possessed by spirits or considered mad would start dancing to some music and slowly they would get cured. This was the specialty of this temple. However neither of my companions was interested in staying for this exotic sight so we had to leave even though I did manage to sit for a few minutes in that hall pulsating with strange vibrations.
Now let us look into some facts about this extraordinary temple. The shrine is supposed to have miraculous powers to cure all those suffering from insanity or those possessed by evil spirits or ghosts. Many such people, known locally as "sankatwalas" flock there in hundreds and get cured. The deity is known as Sri Bheruji Pret Raj Sarkar. The temple priest, Sri Kishore Puriji prescribes the necessary treatments. First of all they are made to stick to a strict vegetarian diet and then made to read some of the Holy Scriptures. If the spirit inhabiting their bodies is a really malefic one, the patient even has to be beaten or given some other physical pain like rolling stones on their chests or other parts of their bodies to force the spirit to leave the body. When the patient is violent he is even shackled to stop him from running away and attacking people. I had been to such a temple in Kerala called Chottanikkara which is a Devi temple and such sights are common at that place so I wasn't shocked as some others who had never seen such sights before. But as we say the proof of the pudding is in the eating and apparently ninety percent of the victims who go there return home totally cured. Hence the popularity of the place.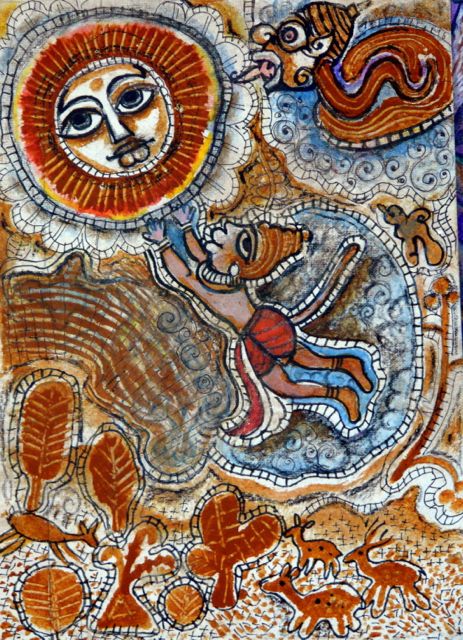 The Hanuman is known as Balaji since he is only a baby monkey here. The story goes that at one time the baby Hanuman had jumped at the sun thinking it to be some sort of exotic fruit and to stop him from doing harm, Indra the king of gods had given him a hard whack with his thunderbolt which had made him fall. His father, the wind god had rescued him and took him away to a safe place to recover and this was the place where the baby (bala) Hanuman had been kept safe by his father. Baby though he is, he is capable of curing all ailments of both body and mind and granting all powers to his devotees.
The story of the place goes back a thousand years. This was a dense forest infested with wild beasts at the foothills of the Aravalli range. The ancestor of the present Mahant had a dream in which a divine voice ordered him to be prepared to take up the duty of serving the Lord in his form as Balaji. In his dream he saw thousands of flickering lights approaching the place. When they came near he saw that the lights were being carried by a huge army of men accompanied by horses and elephants. They circumambulated Balaji and the commander came and prostrated to him. After this the whole of this extraordinary contingent returned the way they had come. At that time the priest heard a voice telling him, "Rise up and attend to my pujas. I intend to perform many miracles here." When he woke up he started searching for the place he had seen in his dream but could not find it. At last after doing intense sadhana the Lord appeared before him and directed him to the place where he found the three divine forms. These three deities are Pavana putra Hanuman, Sri Bhairava Baba and Swayambhu or Sri Pretraj Sarkar. He started doing pujas there and very soon miracles started to occur and people started to come pouring in. During the Muslim rule someone even tried to uproot the idol of Balaji but they could never find the base and soon realized that the whole mountain was his body! Soon the fame of the temple spread and people who were in deep distress due to various factors including possession by spirits started flocking to this place and all were cured by Balaji's grace. A small pot which is kept at the feet of the deity is always full of water due to the continuous flow of water from the left side of the Lord's chest. This is sprinkled on the heads of the afflicted and suffering and gives immediate relief.
I would have liked to stay the night at the place and go for another darshana but my companions were anxious to reach our next destination and thus we went to the town of Dosha and the next day we proceeded to Nathdwara and my darling Giridari Vanamali.
Hari Aum Tat Sat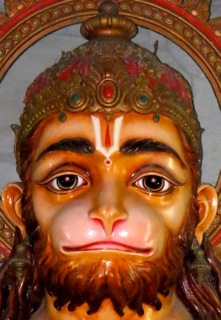 Vanamali Home Page